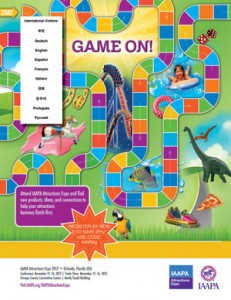 We've had so many questions this past month about the IAAPA 2012 show in Orlando.  Many of our mechanical bull customers are fairly new to the industry so it makes sense that they'd be curious about the show.
But, we've been working with a new group of Party Rental Company that fall into the advertising/promotions group.  Most of them have never heard of IAAPA until we've mentioned it.
The truth?  Virtually everyone can benefit from visiting the IAAPA show.  We found this snippet on Iaapa.org:
An estimated 25,000 amusement park industry professionals including more than 1,100 exhibiting companies will take part in IAAPA Attractions Expo 2012.

In addition to the nine-miles of aisles on the trade show floor, the Expo offers more than 85 education seminars, an impressive line up of guest speakers, a week's worth of networking opportunities, and behind-the-scenes tours of local attractions.
So, what can you find at IAAPA?  Well, of course our favorite is the mechanical bull.  And Galaxy Multirides will be showcasing the best mechanical bulls in the world.  But along with that we'll have our newest games and  a new innovative idea that's never been seen before, called "The Incredible Adventure".
But …there's a whole lot more.  And every Party Rental Company, no matter what their size,  will find something that appeals to them.  Here are a few things you'll find;
Inflatable Bounce Houses
Inflatable Obstacle Courses
Mobile Zip Lines
Fun Foods
Frozen Food Novelties
Plush
Prizes
Carnival Rides
Costumes
Hi Tech Rides and Entertainment
Laser Tag
Carnival Games
Food Trailers
Puppets and Robots
Water Games & Rides
Marketing Programs & Ideas
Gemstone Mines
Bear Stuffing Machines
Get the idea?  It doesn't matter if you have $2000 to spend or $2,000,000…there will be something at the IAAPA show for you.
Of course, these are just the displays on the exhibition floor.  There are also classes & seminars where you can learn all types of new things about the business.
And then there are the parties!  The parties are a great way to network and meet new friends.  The real truth, is that even if you don't buy anything, IAAPA is an experience you won't want to miss!  And it's not too late to plan to attend.
You can get all the information on show attendance here:  http://www2.iaapa.org/expos/attractions/2012/index.asp
But, don't forget to visit Galaxy when you get there.  Remember to check out all three of our booths.
#5127 will showcase our mechanical bull multiride units, all the newest attachments from motorcycles to sharks.  Did you realize that Galaxy has over 54 attachments for our multiride.  This booth will also showcase our newest line of "Redneck Games".
#847 is going to be a real hit with everyone.  This is the hi-tech part of the pavilion and Galaxy will be bring motion and movies together in the new ride, "Incredible Adventures."
#8009 is outdoors and will be showing some of our hottest new games and attractions
So, the answer is, YES…IAAPA is for you, no matter the size of your business.  You'll learn, make friends and see the best new products on the market.  So come on down to Orlando…we can't wait to see you!