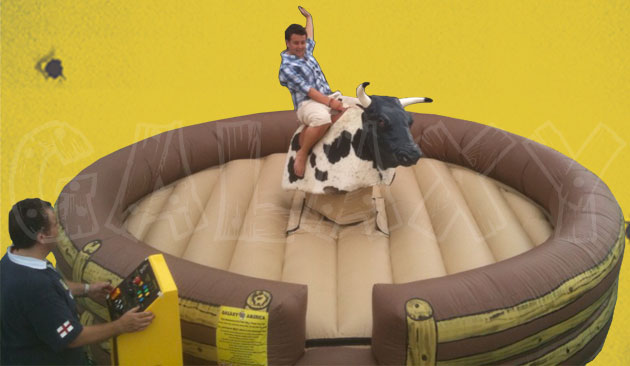 Does the thought of a mechanical bull leave you with images of broken bones and concussions? Do you picture an ambulance standing by? Safety is a big concern as it is with any ride, but the days of drunk operators in smoky bars are long gone. Mechanical bulls have come of age.
The modern mechanical bull is designed for safety. It isn't set up on a hard floor, it's tucked in the center of a soft inflatable. When you fall it's like falling on a soft bed. Trained operators run these machines and they take great care in ensuring every riders safety.
Mechanical bulls have improved so much in recent years that there are now mechanical bull rides for children. They come with soft foam heads and an attractive inflatable safety net. Your child's imagination will soar as he rides the wild thing. He'll have safe fun and have memories to last a lifetime.
You might be thinking, "Aren't inflatable games such as a bounce house safer for my child?" Whether it be an inflatable bounce house, or a mechanical bull, or any ride for that matter, it will only be as safe as the operator makes it.
Inflatables like bounce houses & slides are going through a tough time right now.  The mechanical bull went through this a few years ago and actually came out stronger.  Now most operators follow strict guidelines in operating their bull.  Of course, to be safe, the ride manufacturer has to be willing to offer training to operators so they understand how to do things correctly.
Did you know bounce houses should have attendants? The attendant makes sure the house is tied down properly. He insures that maximum load is not exceeded. He's there to solve any problem that might occur. Bounce houses are safe and entertaining fun for your child. The difference between the bounce house & a mechanical bull is that many times the operators (or attendants) for the inflatable are not furnished by the equipment owner.  They might be parents or friends that are trained for the operation.  The downside of this is that everyone assumes the attendant paid attention to the safety instructions.  It's rare that you'll find a bull that isn't being operated by a trained company employee.
This is not to say that inflatables aren't safe.  Some of the best mechanical bull manufacturers make inflatables too.  But, because inflatables have pretty much been considered harmless, (as opposed to that wild mechanical bull ), there hasn't been as much concern on how to operate them properly.
Mechanical Bull operators will be skilled in running the bull.  He will determine that the mechanical bull is operating properly. He will give the rider instructions for riding the mechanical bull and he will provide a safe fun ride for the rider.
Mechanical bull rides come in several varieties. There's the solo bull for the adventurous single rider. There's the side by side for the guys who want to compete against each other. There's the child's bull ride. You can even get a specially designed bull to advertise your business. There's something for everyone to experience a safe comfortable ride.
Mechanical bull rides are great for fairs, outdoor events, picnics , your company event, and anyplace where people gather. They can be combined with inflatable games for an afternoon of outdoor fun. They can also be placed inside for fun in any weather.
Mechanical bull rides can be purchased or leased. You can even have your own custom made multiride like the "Jose Cuervo Mechanical Lime" ride. They provide clean safe fun for young and old alike. Mechanical bulls aren't just fun machines, they are profit machines.
Galaxy Multirides is the place to get your mechanical bull or custom designed multiride. In business for over twenty years Galaxy produces their own rides and sells to over 45 countries. They are innovators in the industry and at the forefront of mechanical bull design.
You can lease or purchase mechanical bull ride machine from Galaxy Multirides as well as get surf machines and armchair sports machines. All are made to the strictest standards. All are safe exciting rides. For more information visit Mechanical Bull Rides for Sale.