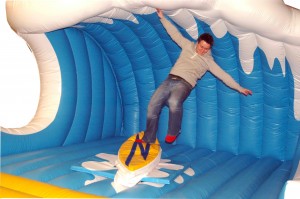 When you think of a surf machine you might be thinking of these long pools filled with water. A mechanical device creates waves at one end and the person riding the wave jumps in the other end on a real surfboard. They then ride the wave until they fall off and get all wet.
The mechanical surf machines we are talking about are a bit different. Have you ever seen a mechanical bull at an event? You hop on and get bounced around until you fall off. These are the kind of surf machines we are talking about. There is no water. There is a surfboard inside an inflatable made to resemble water. A person at the controls the "wave effect"  until you fall off. If you're really good you won't fall off. You might even win a prize.
Surf machines come in several models. There is the regular surf machine for the solo rider. In this instance the rider is competing against himself or a clock or both. The operator can give you a soft ride if you're a beginner, a medium ride for the more advanced, or a hard ride for the surfing pros.
There is the two person model. Compete against a buddy for the prize. The operator controls both boards so you both get the same ride. You can have a soft ride, a medium ride, or you can go all out for the hard ride. The more you practice the better you'll look.
A third type of surf machine is more than just surfing. With this baby you can simulate surfing, snow boarding and skate boarding. Become the master of all three or just pick a favorite. You'll experience excitement and thrills in a safe and fun environment.
You can get the surf machine with the Big Wave Inflatable Bed that comes in either the nine feet or the thirteen feet sizes. You'll love the realism this bed will give to your ride. Short of surfing on the ocean there's nothing like it.
Surf machines can be purchased or rented and are great money makers. Kids love them. Set them up at flea markets, fairs, picnics, outdoors events or just anywhere people gather. Before you know it you'll have lines of people wanting their turn.
Surf machines are a great investment for retailers looking to increase their bottom line. Surf machines are a great attraction in malls and shopping centers. Keep the kids occupied while you do your shopping. They'll be happy and so will you.
Set up your surf machine indoors or outdoors. It makes no difference. People love to watch other people tumble and then they have to try it themselves. They'll keep coming back for more. setting up your own surf machine is a good way to make money. You just can't lose so check into a surf machine for your business today. For more information visit Galaxy Multirides
And don't forget a surf machine for your theme park, party rental company or FEC.  You'll be amazed at what one can do for your profits!