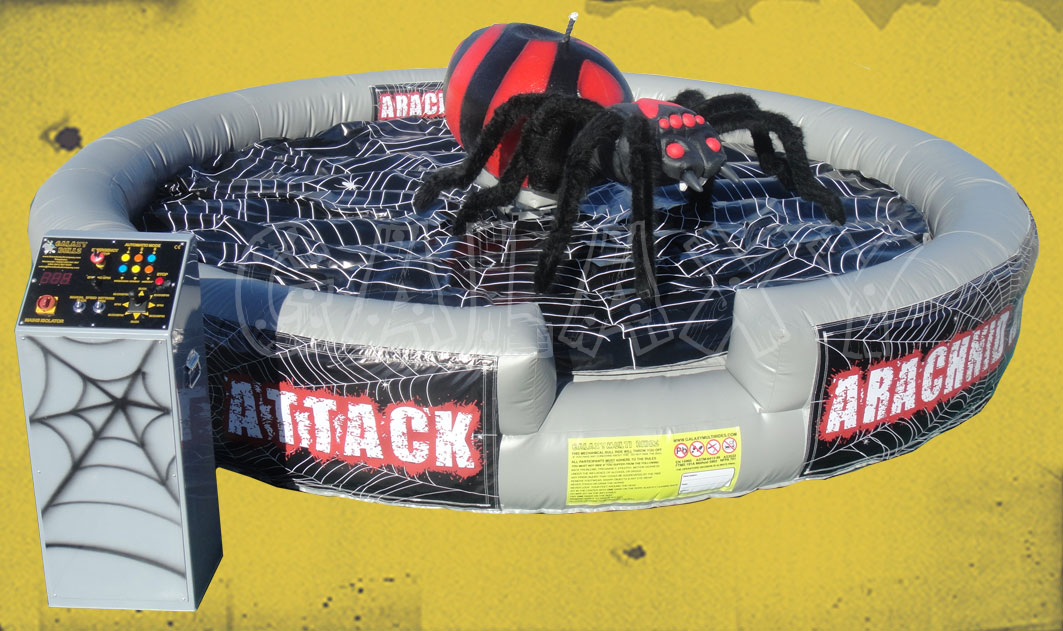 Setting up a haunted house is a lot more difficult than it looks.  Although Haunted House Attractions make it easier, you need to arrange everything so that the theme will be really frightening, especially if you're doing it for Halloween. In order for your desired theme to be successful, the props and decorations have to match. You don't need to be concerned about making the props yourself as there are several haunted house props like the mechanical spider, that are selling at affordable prices. Just ensure that you match these props to avoid your haunted house looking like it was just "thrown" together.  Most of the successful haunted house these days have definite themes. A great way to keep your guests coming back each year is to add new attractions and vary the theme. Everyone is ALWAYS looking for the newest fun attraction.
Looking for the Greatest Haunted House Props?
Try Gore Animatronics
Gore Animatronic props can produce a  very creepy atmosphere. Although these props cost a little more than others, they will definitely scare most people especially kids. You can put these props in different places outside and inside of the house. Gore props are extremely frightening and can terrify even adults. They normally come in bloody part corpses and designs. Animatronics are a whole lot more frightening than standard props as these props move unexpectedly, which surprises and frightens most people. Put together with other decorations these props will surely help to create a haunted house attraction for Halloween or any other party.
The other interesting thing about gore animatronics is that they are unforgettable! There was an animatronic that came out a few years ago…a man in a prisoner costume was being electrocuted.  It was about as realistic as you can get.  My daughter was in her 20's at the time.  Once she saw it, she just kept going back and looking again and again.  She still talks about it 10 years later.  If you want them to keep coming back…then give them something to remember you by!
Sound Effects and Music
Getting a specific CD which goes with the theme of the house is critical in order to have a general frightening impact on visitors and neighbors. These may be programmed to play when someone is close to a certain prop in order to surprise the person/s.
Scary laughter and screams are the most popular sound effects for the scariest of haunted houses. Music is also helpful in producing a frightening atmosphere. Sometimes orchestral music like you hear in the old horror movies offers just the atmosphere you need.
One of the best prop that will create a scary ambiance at any haunted house is ghost illusions. You can find articles online that can walk you through the steps to make a ghost illusion.
Spiders and Spider Webs
Spider webs and spiders are also great haunted house attractions.  Do you remember the feeling of walking into a huge spider web.  That's a creepy feeling, even on a sunny day.  The addition of webs can add just the ambiance that you want.
What About Crowds??
One probablem that many haunted houses have is that they are SO seasonal that it's difficult to get the crowds through them when they visit.  Many haunted houses lose business because people don't care to wait in line. The way to get around this is to have activities available for guests to do while they're waiting.  And the best kind of activities are the ones that add to your profits.
The latest gadget that is going to be REALLY popular this year is the mechanical spider.  A mechanical spider set up outside your haunted house will attract new customers all by itself.  Remember how much fun people have when they ride a mechanical bull?  Well, a mechanical spider works the same way.  You climb on the spider and try to hang on while the operator moves you up, down and round and round.  The mechanical spider is fun for the participant…but it's fun for watchers too!
Not to mention, the mileage you will get out of people uploading their spider ride pictures to YouTube.  The advertising alone is worth loads of $$$.
The mechanical spider was debuted by Galaxy Multirides (the worlds largest manufacturer of the Multiride Mechanical Bull) at the industry trade shows this year, so NO ONE has seen the new spider as part of a haunted house set up yet.
When you're making the plans to update and add attractions to your Haunted House for 2012, don't forget the Mechanical Spider.  There's no better way to make profits BEFORE guests even step into your haunted house and the spider is a great way to keep them coming back again and again.
For more information on getting a Mechanical Spider for Your Haunted House, visit Galaxy Multirides, manufacturers of the Mechanical Bull, Mechanical Pig, Bad Ass Bar Bull, Mechanical Reindeer and more!
You can also follow Galaxy on Facebook, where they debut their newest games as they arrive.