Are you struggling to figure out new ways to market your mechanical bull business? If you haven't tried Pinterest, then you really want to take a look at it. Pinterest is an image-based social network that has more than 11 million users. Users make folders of photos called "Pin Boards." Users can then search through the internet and use Pinterest's easy to use interface to "pin" different images to their pin board.
For example, if you're a designer of jewelry, you might create a pin board called "Jewel Styles We Love." Any time you find great jewelry, you can pin it to your board. Your customers can come to you and ask for custom jewelry to be designed like any pin on your boards.  Users can look at your pins and "re-pin" your pins on Pinterest to their very own pin boards, as well as "like" pins. It's a very interactive experience.
Now, if you own a party rental, or mechanical bull riding company, you can use pinterest to post all types of event pictures and info regarding your bull and other types of equipment.  You can even encourage others to post to your board.  Here's an example of one of our Pinterest Boards.  It's not just about Galaxy, but about others, who might use or enjoy the mechanical bull.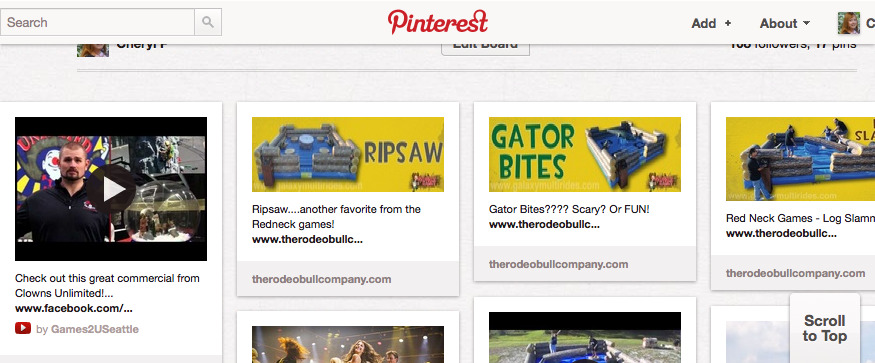 Pinterest Traffic & Statistics
Pinterest actually gets over 11.7 million users a month, according to an exclusive ComScore study provided to TechCrunch. It's also the fastest website in history to break past the 10 million users a month mark. For many months Pinterest was experiencing over 400% month over month user growth.  Can this give you some idea of the power Pinterest might have over a Mechanical Bull Riding or Party Rental Business?
According to Alexa.com, Pinterest is reaching about 2% of global Online  users on a daily basis. While this is a much smaller number than Facebook or even Twitter, it still shows a decent reach for a very unique network.
Demographics of Pinterest
Pinterest users have more money than most other social networks, with 28.1 percent having a household income of at least over $100,000. Most other users have between $26,000 and $75,000 users.
Pinterest users seem to be leaning more towards women. 97% of Pinterest's Facebook likes come from women. 68.2% of Pinterest's user base is women, though the bias towards women is even higher in the United States. Ok…and who plans the most parties and events?  It could very well be….Women!
Should Your Business be on Pinterest?
Pinterest is used a lot by people looking for entertainment ideas.  Wedding, Birthday Party, Special Events….and every one of them could be finding your pinterest board if you work things right.
Pinterest Pros and Cons
Pro: Pinterest has a very specific demographic audience. If you're targeting their audience, it's the perfect platform.
Con: Copyright issues. If you pin an image, you take the risk of copyright infringement. Keep in mind that many sites will have specific requirements for you to use their images. For instance, Amazon will let you use images on Pinterest, but you must link to Amazon from the pin. If you link to a review of the Amazon product on your own website, you will be in violation of their copyright laws.
Pro: Pinterest is extremely easy, fast and simple to learn. It's also very fun to use! Many marketers find it easier than setting up a Facebook page or trying to use Google+.
Con: It's not a standalone marketing platform. It's very, very hard to use Pinterest as your primary marketing strategy. Pinterest can be very powerful when it's combined with other social networks, offline strategies and paid strategies. But on its own, it's hard to build an audience from scratch.
Pro: You can showcase your products in a much more visual and tangible way than in the other social networks. A Facebook posting just can't make the same emotional impact that rows of images of your best dresses can.
Con: The "No Self-Promoting" rule. Pinterest is designed for "curating and sharing things you love." If seem to be too promotional, you could get your account shut down. It's not built to be a marketing channel.
Tips for Success With Pinterest
First, learn a little bit about photography and image editing. Being able to create attention catching, professional looking photos is crucial on Pinterest. You don't need an expensive camera or a degree in Photography. Spend a few hours online to learn about the basics of lighting, camera angles and color correction.  This will take you a long way towards building a great board.
Keep your pins and your boards simple. Separate the different kinds of pins into specific category boards instead of trying to shove too many different things in one board. Try to use photos that capture something simply and elegantly.   You might have a board that shows western party themes, or one that puts the focus on college event activities.
Try to integrate your other marketing activities with Pinterest.  Periodically make announcements to your Twitter list using your pictures on Pinterest.
Use your Google Analytics account or a statistics program to analyze the performance of the traffic that comes to your site from your Pinterest boards. How much traffic are you seeing? How long are visitors staying? Are they actually more likely to buy than from other kinds of traffic? What kinds of pins send the most traffic to you and generate the most bookings? The answer to these questions will provide a treasure chest of info you can use to plan your future marketing choices.
Pinterest can be a great part of your marketing strategy…along with Twitter, Facebook and Google+.  And while you're at it…feel free to add your Galaxy mechanical bull photos with a link to your website to one of our Pinterest Pages!
http://pinterest.com/cherylynn1/galaxy-multiride-mechanical-bulls/