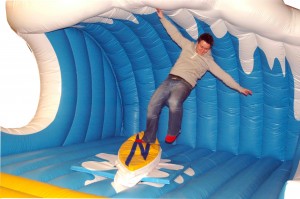 Water Parks have been around for a long time. They are a fun place to take the kids for an afternoon. You will probably have a good time yourself. Slip and slide, bounce and ride, take a few pictures and before you know it, it is time to go.
In today's tough economic times things are different than they used to be. People still come to your Water Park, but not as often as they used to come. They probably don't spend as much as they used to spend either. It's harder to meet expenses and keep the doors open. This is when you really need to get creative to boost profits and ride the wave.
A Robo Surfer is a good way to boost profits. What is a Robo Surfer? A Robo Surfer is a surf machine. It's basically a surf board set inside an inflatable. The rider climbs on the surfboard and tries to maintain his balance while the operator makes the surfboard wiggle and bounce in an effort to knock the rider off.
The Robo Surfer does not use water. The inflatable is made to look like a wave. The standard Robo Surfer comes with a low wave look behind the rider. The Deluxe model comes with either a nine foot or a thirteen foot back wave for that realistic ride. There is even a two rider model. Two Robo Surfers side by side. Friends can compete with each other while you make double the profits.
The inflatable is a soft safe cushion for when the rider falls off. This makes the Robo Surfer a fun safe ride for young or old. The operator is in full control and can take it easy on younger riders while giving the older more experienced rider a run for his money. A safe fun ride can be had by all.
Because the Robo Surfer uses no water they are portable and can be moved from place to place. They are an excellent form of advertising for your Water Park. They are easily transported and are compact enough to fit in a station wagon or the bed of a pick up truck. Robo Surfers are easy to set up. The standard model can be set up by one person in as little as fifteen minutes.
Use your Robo Surfer to drive business to your Water Park. Set it up in a Mall or a Mall parking lot. Set it up in any large store parking lot or set it up in a park. Your Robo Surfer can be set up inside or outside so the possibilities are limitless.
To increase your profit you can add a sno cone, popcorn, or cotton candy machine to your setup. You can even add all three. Offer a free pass to your Water Park for the person who can ride for a predetermined time. This will increase rides and profits.
Boosting Water Park Profits with a Robo Surfer is easy if you have a good solid piece of equipment. For more information visit Robo Surfer's For Sale.